After providing virtual session to our client during these times, we are excited to say that OUR STUDIO IS NOW OPEN!
Bookings are now available, click here to get started.
Put Your Fitness to the Test
What are your plans this summer? What cool and exciting activities are you going to try or experience? Nova Scotia has plenty to offer and "staycations" in our nicest months of the year can be super fun. Now is the time to plan out your activities and prepare to put your fitness to the test.
Anyone who has read my previous blogs knows that I am a pretty avid hiker. And we plan on doing a lot more hiking through to the fall. So far this spring we've hiked Cape Split, the Cole Harbour Heritage trails (a few times) and the Bayers lake loop trail out in Musqudoboit. Other spots on our "hit list" this summer include: Blomidon Provincial Park, the Bluff wilderness trail and Crowbar lake to name a few.
Something new that I am trying with my team here at OneUp Fitness this summer is the annual, 6km long, obstacle course Mud Hero at the Martock ski hill in Windsor. I've never really done anything like this as an adult, so I'm really looking forward to challenging myself and putting my fitness to the test. And, let's face it, it's a fantastic excuse to get full of mud, which is always a good time.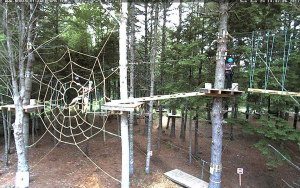 Me navigating through the "spider web". Click on photo for high res.
Ski Martock is also the location for another great outdoor adventure that you can enjoy seasonally called "OnTree Park". Click the link to find out more about the tree course.
Another really fun adventure I got to experience with my team here at OneUp / One to One a few years back was tidal bore rafting on the Shubenacadie river. Highly recommended!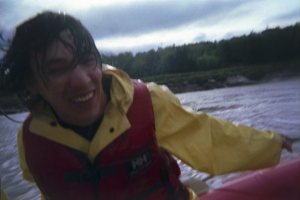 Clearly not having fun.
My adventures this summer will come to a 'peak' (pun intended) on my birthday, at the end of September as we prepare for a climb to the palace of the gods (Greek gods that is) on Mount Olympus.
These are examples of course; choose your own adventure, base it on your comfort level and physical capabilities. That said, make it interesting and challenge yourself to get a little out of your comfort zone occasionally. The feeling of reward after accomplishing something that pushes you into that space is really fulfilling and will make for some lasting memories. Don't forget to get the family involved!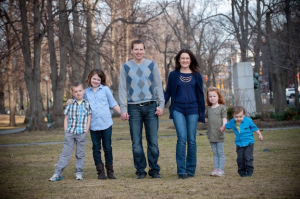 Here is a link to the official NovaScotia.com website to give you some ideas about things to do around our beautiful and amazing province this spring/summer/fall. Don't let it pass you by, our summers are too short! Try something new, have an adventure, take some pics and share them with us! We always love to hear peoples stories.
Have fun, be safe and if you're looking for some advice or preparatory physical training for your upcoming adventure drop me a line at my email below. I know a place where you can get in super great shape in a very short time 😉 Cheers!
Matt
This website uses cookies.